As a Home Inspector it's always fun to share your experiences and information with other people, for your own enjoyment and the education of others. A big part of a being quality Home Inspector is not just the Inspection but education others on the specifics of their homes. Taking the time to teach about maintenance and improvements it's a critical part of our customer service.
So here is some interesting thing I've found, hopefully you enjoy it and benefit from the information.
The problem here isn't the deck. It was very well built and looked great. Notice the stairs. No Railing. Most people will say "That's not a big deal". It is a big deal. The most falls occur at home and the most common location for those falls is in areas with 2 to 3 stairs. This is a safety and liability issue. You never want someone to fall on your property, but worse would be giving grounds for a lawsuit due to an unsafe staircase. That's a bad way to end a deck party.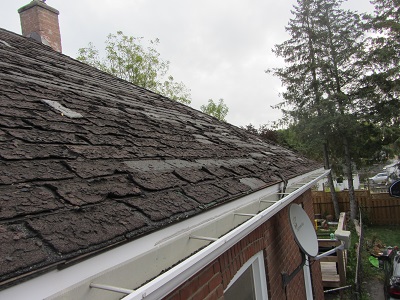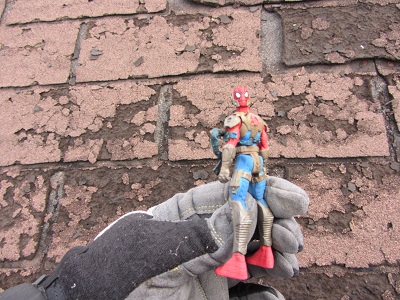 When I arrived at this property I was told by the agent, "The roof should be good". The agent thought this because the west side of the roof was in decent shape and visible from the ground. This side however was not visible from the ground due to the orientation of the home and relation to the neighbour. Speaking of Neighbour, our friendly neighbourhood Spiderman was waiting in the gutter for rescue. This is obviously a roof in very bad shape. Shingles are one of a few layers of protection for a roof. Think of it as the skin of the roof. If the skin is broken down and underneath is exposed then you risk major problems. My advice in this situation is to get three Roofing Contractors to provide estimates and speak with your agent. From there you can make your decision.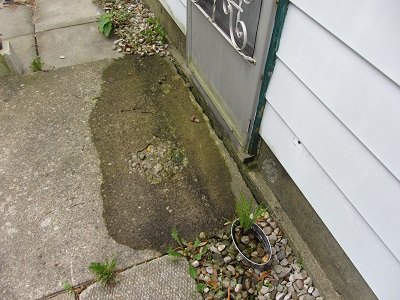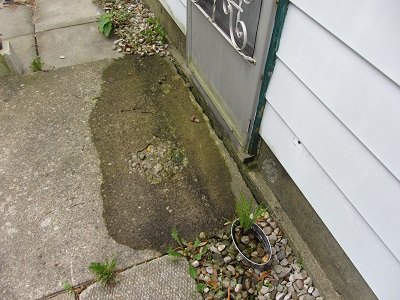 In this picture you'll notice the gutters are missing. Water is the second most common destroyer of a home. The most common is Home Owners. This likely seemed like a small issue to these owners. Water management is extremely important. In the second picture you'll notice the damage to the concrete below the missing gutters and evidence of water pooling. Water has a cumulative damaging effect. Over time water can destroy most materials. The pooling is a separate issue. Water should always be displaced as far as possible away from the structure and foundation. Water around foundations can expand against foundations causing cracks and under concrete causing heaving. Water should be managed with gutters and carried by downspouts at least three feet from the foundation.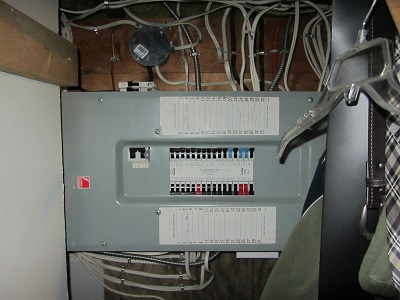 This looks like a nice, well wired, clean breaker box. Yes it is, but there is something to notice. This is a Federal Pacific Stab-Lok breaker box. This is an instant red flag for Home Inspectors. These particular boxes have had a history of defects and recalls. While this box may be, and in this case was not an issue, it is always my recommendation that a further evaluation be completed by an Electrical Standards Association Electrical Inspector to ensure that this box is not subject to recall or at risk for known defect.
If you happen to have one of these boxes and have questions please refer to the following website or contact me.
http://inspectapedia.com/fpe/Federal_Pioneer_Electric_Panel.php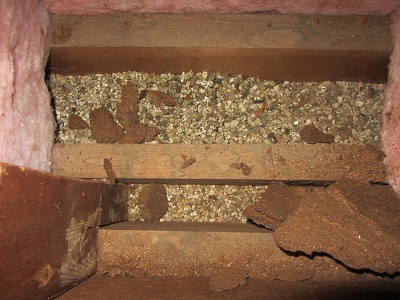 This picture is taken inside an attic. Under the fiberglass batts you'll notice a rock-like fibrous material. This is Vermiculite insulation. Vermiculite insulation was used from the 1920's until the late 1980's. Vermiculite is an asbestos containing product. This does not mean that all vermiculite contains asbestos, however it is common enough to require testing and removal by professional contractors. When I discover vermiculite I recommend testing and removal. The product should be removed regardless of asbestos content to avoid the recurrence of the issue upon resale.
I hope you found this informative and entertaining. Please feel free to contact me if you have questions and watch for more entries to keep yourself informed and updates .